Paper Water Bottle integrates design, engineering and manufacturing services to create innovative containers for consumer enjoyment. We offer brand owners the option of purchasing off-the-shelf, ready-for-your-brand products, or design and manufacturing services to help you create your own custom bottle or container.
Stock Bottles
Paper Water Bottle stock products are available for you to order today from our regional bottle Production Partners. Our Production Partners can provide pricing and, in some cases, label design and co-packing services. Brand your bottle and place your orders today!
Stock Paper Water Bottle
| Product | ECO 1 GREEN |
| --- | --- |
| Renewable Materials | Pulp Outer Shell |
| Landfill Biodegradable* | ENSO RESTORE™ PET† |
| Tamper-Evidence Cap | Yes |
| Size | 500ml |
| Stock Color | Natural Tan |
| Customizable†† (Shape, Size, Color) | Yes |
| Labeling: Direct Print or Adhered | Yes |
| Availability | In Stock |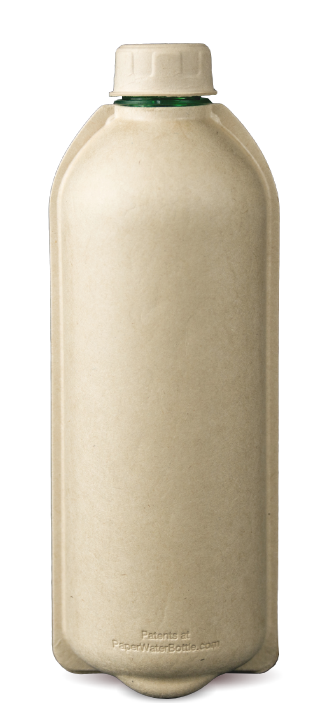 †Also available in rPET and Ocean-bound rPET
††Through Paper Water Bottle 3D Design Services
Patented Technology
Paper Water Bottle technology is based on 17 global patents. We integrate this technology into our design methodology, operations and manufacturing approach. It informs and enhances our approach to understanding consumer insights, design innovations, raw material selection and sourcing, and product development and production.
Custom Packaging
If you need custom packaging for a high-volume brand, our award-winning designers are available to work with you to create distinctive consumer packaging. Our PWB 3D design team's expertise in Paper Water Bottle technology enables them to create memorable, sustainable product packaging and brand identities using our patented technologies and manufacturing processes. Regional Paper Water Bottle production partners are then engaged to produce your unique packaging to your order. Minimum order quantity, design fee and tooling fee apply for custom packaging.
Become a Production Partner
If you are planning for large unit volumes, you may want to consider licensing Paper Water Bottle technology and processes to become a regional bottle production partner. Bottle production partners have access to Paper Water Bottle technologies, processes and services to produce bottles and containers for their own use or for sale to other brand owners.
Amazing! Our corporate culture matches Paper Water Bottle… save the planet!

Thank you for pursuing this important innovation! Paper Water Bottle is genius!

This concept is excellent! Hotels everywhere need Paper Water Bottles.

The Cosmetics industry needs to use Paper Water Bottle technology! Wonderful break through.

This is great. My university should order all our water in Paper Water Bottles!
Request More Information
You can order bottles or samples online. Looking for something custom or a larger opportunity? Contact us to create custom packaging for high-volume products or about using our technology to produce bottles directly for your customers.